 Our Partner
Pluribus Networks
The Pluribus Networks VirtualWire L1 integration with Quali CloudShell provides organizations with the capability to communicate with network topology managed by the Pluribus Netvisor switch.
Together, Quali and Pluribus provide a deployment-proven, highly scalable next-generation Fabric that meets a very wide-range of operational requirements. Combining Quali CloudShell with Pluribus VirtualWire simplifies operations by powering orchestration with blueprint-driven, self-service dynamic environments that increase the pace of innovation and completion.
The Pluribus VirtualWire™ solution automates and streamlines interconnections for Test Lab and Cyber Range environments and transforms operations into an agile, elastic and self-service environment that improves resource utilization, decreases test cycles, and lowers operational costs.
Leveraging next-generation networking technology, VirtualWire scales and optimizes the Lab environment with production-like precision while reducing complexity and improving operational efficiency to transparently interconnect servers, devices, and test equipment across local or distributed environments.
The Pluribus VirtualWire integrations with Quali CloudShell empowers organizations to orchestrate the underlying network VirtualWire topology enabling local or remote operation to instantly share expensive lab resources without having to rewire or change configurations.
Leverage the programmability and cost-efficiencies of SDN to automate and streamline Lab and Cyber Range operations to create, automate and provision production-like test environments in minutes
Versatile next-generation Lab and Cyber Range Fabric transparently supports both Layer 1 and hybrid Layer 2/3 interconnections to simulate full production environments
Interconnect geographically distributed environments with seamless resource sharing across sites while maintaining full Layer 1 transparency
Support for interface speeds scaling from 10/100M to 1, 10, 25, 40, 100 and 400 Gigabit
Scale from 100s to 1,000s of devices/ports in a single, fully interconnected Fabric without the physical limitations of a fixed-density chassis
With SDN, NFV, SD-WAN and now 5G migrations, network service providers face the risks inherent to all new network technology adoption. Reviewing an approach to minimize these risks with blueprint-driven, self-service environments and standard orchestration to allow for fast certification and release of the next generation network solutions.
Learn More at Pluribusnetworks.com
Joint video on: Automate Your Lab Infrastructure with Dynamic Environments and SDN
---
Quali is the only Lab as a Service solution that turns your lab into a revenue generator rather than a cost center.
With a secure, optimized, on-demand catalog access to lab and cloud resources, your local and remote engineers can immediately set up the environments they need—accelerating time to market, skyrocketing productivity, and slashing millions in costs.
Create, automate and provision production-like test environments in minutes, not days
Leverage the programmability and cost-efficiencies of SDN to automate and streamline test lab operations
Support next generation interface speeds with upgradeability to 10, 25, 40 and 100 Gigabit connections
Gain real-time visibility into lab performance and efficiency with embedded network visibility, analytics and resource utilization
Only Quali delivers a fully hybrid and elastic single source of infrastructure automation, cloud cost controls, and simple, secure, self-service.
CloudShell is the only LaaS solution with proven mega-scale, mission-critical deployments, chosen by hundreds of tier-1 leaders in technology, service providers and enterprises.
Increase productivity
Speed time to market
Increase automation coverage to accelerate the test cycle
Reduce business risk
Automate security policies
Reduce Opex/Capex spend
Virtualize lab consolidation
Increase governance
On a Friday afternoon, you need access to an environment with a certain configuration for a specific amount of time. Going to Ops to configure the environment requires submitting tickets and a lengthy provisioning process—you'll be lucky if you get the environment on Monday. Going around Ops to provision your own environment using Shadow IT practices and borrowed passwords create security and compliance risks, performance issues, and increases costs.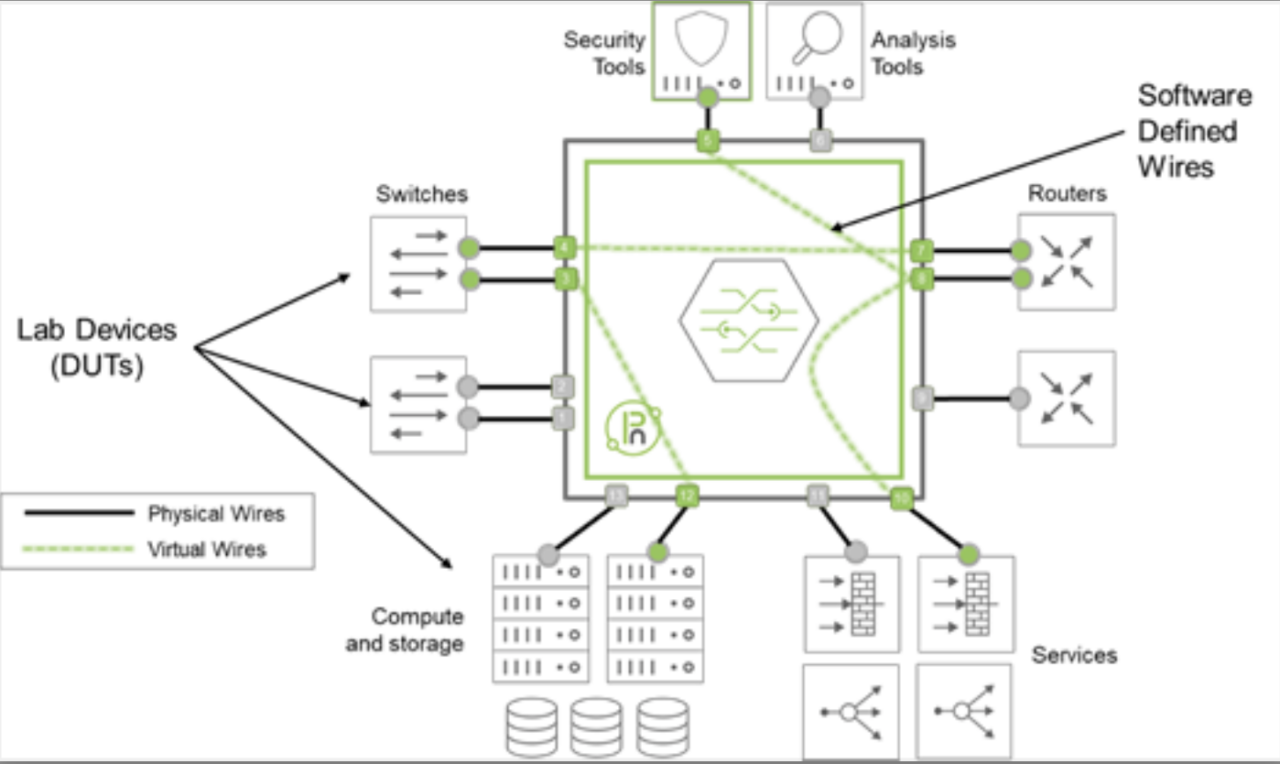 With CloudShell, you gain immediate access to the environments that you need, already approved by Ops, in a way that's repeatable, reliable, and scalable.
When the environment is no longer needed or the reservation time has expired, the environment is torn down and resources are added back to the pool for reuse.
Complex network configurations, modern labs, and manual processes have made provisioning environments time-consuming, expensive, and error-prone.
CloudShell is the leading platform for delivering Infrastructure Automation at Scale for complex on-premise, hybrid, and cloud environments. IT leaders and innovators around the world trust Quali to enable self-service environment provisioning and automated decommissioning to streamline the development, testing, and certification of various technologies into production environments.
Self-service: Increase Productivity
Pain points Pluribus and Quali addresses:
Siloed environments
Difficulty scaling usage in the environment
Manage and provide access to inventory in distributed environments (connectivity, cabling, etc.)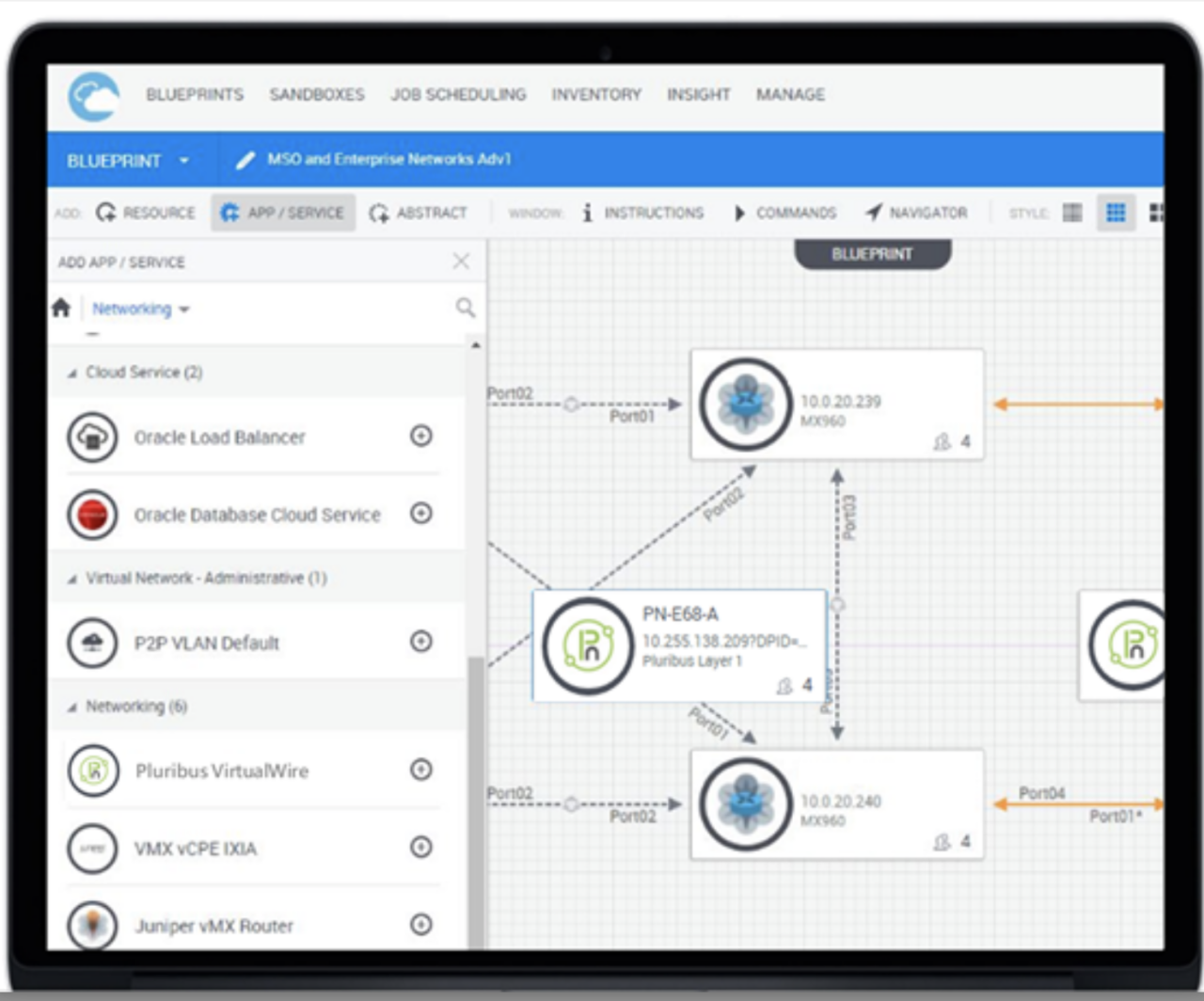 Benefits of combining Pluribus and Quali:
One-click deployment of time-based environments from a friendly catalog, anytime anywhere
REST API – a visual environment work area with secured quick access to resources in the environment (SSH/RDP/etc) and one-click automation commands.
Automation everything with Quali and Pluribus: Speed Time to Market
Pain points
"Push and Pray"
Slower release cadence due to tests and testbed set up time.
Benefits:
Inventory management – ability to load all the physical and virtual equipment in a lab through CloudShell. Using the Shells developer guide any inventory item can be supported.
Blueprint complete end to end automation available through drag and drop designer.
Hybrid Environments – an environment can contain a mixture of physical, virtual and cloud resources.

Hybrid and multi-cloud environments are supported
Support of networking on layer-1, layer-2 and virtual networking
Community Shells – extend the product to support new technologies (all open source, python)

Environment orchestration – flexible orchestration automation workflow. Out of the box automated resource allocation, set-up, and tear-down capabilities as well as extensible Python libraries to create powerful orchestration workflows.
Remote execution – distributed architecture supports secure automation across global labs and public clouds from a single pane of glass.
Governance with Quali's RBAC functionality: Reduce Business Risk
Pain points:
High Engineering and SME cost for certification and environment maintenance
Low visibility into environment utilization
Idle equipment
High environment management cost
Benefits:
Governance – policies, domain separation and RBAC make it possible to control access and put guardrails on resource usage and visibility.
BI (add on) – comprehensive business intelligence and analytics providing insights on lab infrastructure utilization and other lab KPIs.
SSO through your organization portal to ensure cross functional teams have access to the environments that they need.